Merhaba geçtiğimiz günlerde yayınlanan Exchange 2016 için sistem gereksinimleri konusunda bilgi vermek istiyorum
Forest Functional Level minumum 2008 ve üzeri olmalı

Domain Requirement:

Domain Functional Level 2008 ve üzeri olmalı

Domain controllers 2008 ve üzeri olmalı

All Active Directory Site 2008 ve üzeri olmalı with Global Catalog 2008 ve üzeri bir sunucuda olmalı

Domain controller lar 64bit işltesim sistemine sahip olmalı

Operating System Requirement:

IPLess DAG yapısı için Windows Server 2012 R2 işletim sistemi gerekmektedir

IPv6 ve IPv4 açık olmalı

Disk Format:

64K cluster block size.

System veExchange Binary partition ları için NTFS ve Raid 1 tavsiye edilendir

Database, Logs and content indexing partition için ReFS.

Paging File:

Page size dosyası boyutu minimum ve maksimum değerleri fiziksel RAM miktarının artı 10 MB şeklinde  ayarlanması gerekir.

Memory:

Mailbox Role:         Minimum 8GB




Edge Transport Role:    Minimum 4GB



Processor:

x64 architecture-based yapı Intel ve AMD de desteklenmektedir




Intel Itanium IA64 processors desteklenmemektedir



Supported Clients:

Outlook 2016




Outlook 2013




Outlook 2010 with KB2965295




Outlook for Mac for Office 365




Outlook for Mac 2011




Bye to Outlook 2007



.Net Framework:

   Tavsiye edilen .Net Framework versiyonu 4.5.2 dir indirmek için download

.Net Framework versiyonu 4.5.1 de desteklenmektedir

Management Tools:

    Management tools için Windows 8.1 ve üzeri işletim sistemi gerekmektedir.

PowerShell i run as Administrator ile çalıştırıyoruz

[highlight color="eg. yellow, black"]
Install-WindowsFeature AS-HTTP-Activation, Desktop-Experience, NET-Framework-45-Features, RPC-over-HTTP-proxy, RSAT-Clustering, RSAT-Clustering-CmdInterface, RSAT-Clustering-Mgmt, RSAT-Clustering-PowerShell, Web-Mgmt-Console, WAS-Process-Model, Web-Asp-Net45, Web-Basic-Auth, Web-Client-Auth, Web-Digest-Auth, Web-Dir-Browsing, Web-Dyn-Compression, Web-Http-Errors, Web-Http-Logging, Web-Http-Redirect, Web-Http-Tracing, Web-ISAPI-Ext, Web-ISAPI-Filter, Web-Lgcy-Mgmt-Console, Web-Metabase, Web-Mgmt-Console, Web-Mgmt-Service, Web-Net-Ext45, Web-Request-Monitor, Web-Server, Web-Stat-Compression, Web-Static-Content, Web-Windows-Auth, Web-WMI, Windows-Identity-Foundation
[/highlight]
Sunucuyu yeniden başlatıyoruz.
.Net Framework versiyonu 4.5.2 indirip kuruyoruz download
Arkasından Microsoft Unified Communications Managed API 4.0, Core Runtime 64-bit indirip yine Run as Administrator diyerek kuruyoruz

Exchange 2013 kurulumunda yaptığımız işlemlerin aynısı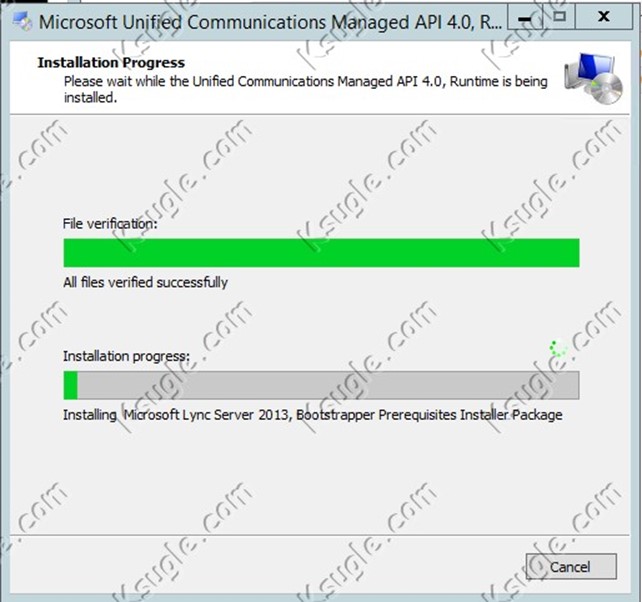 Kurulum için ön gereksinimler bu kadar.